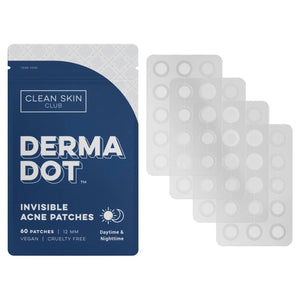 Untimely zits are no match for the DermaDot Invisible Acne Patches. These patches not only help drain and flatten acne- but they protect them from exposure to bacteria and other pollutants to expedite healing time. The best part? They blend in with your skin, making them nearly invisible to the naked eye. Wear day or night, or both, to drain, protect, and hide.
Find Your Target: Best used on almost-ready pimples and whiteheads.
Apply The Patch: Be sure to clean the area and your hands before applying.
Let It Work: Leave the patch on for 6-8 hours before removing.